Pre-Start Health & Safety Reviews (PHSRs)
A Pre-Start Health and Safety Review is required to be performed as per Section 7 of Regulation 851, R.R.O. 1990 under the Occupational Health and Safety Act R.S.O, 1990 which states that a new apparatus, structure or protective element is to be constructed, added or installed or a new process at your plant must be reviewed by a Professional Engineer to ensure compliance with the applicable codes and safety standards.
What is a Pre-Start Health and Safety Review (PHSR)?
Prior to any worker being permitted to operate any machinery, equipment, or a process in a hazardous environment, an employer is responsible for ensuring that a thorough report is prepared that shows that the equipment is safe. This PHSR report is required to review all of the relevant regulations pertaining to that particular type of equipment.
Where in the workplace do PHSRs apply?
PHSRs must be completed when:
a new "apparatus", structure, or "protective element" is to be constructed, added or installed, or a new process is to be used; or an existing "apparatus", structure, "protective element", or process is to be modified and to comply with applicable provisions whereby either:
new or modified engineering controls are used
other new or modified measures are used, or
a combination of new, existing or modified engineering controls and other new or modified measures are used.
Who can perform a PHSR?
As mandated by the OHSA, the review must be conducted by a Professional Engineer (licensed by the province) that possesses special expert or professional knowledge or qualifications.
Is a PHSR review always required?
Pre-Start Health and Safety review is mandatory to ensure that the design & control requirements for electrical, mechanical, pneumatic or hydraulic systems are met. The purpose of the review is to identify and eliminate hazards by reliable control using proper safety devices.
As outlined by the regulations in the OHSA, there are certain exceptions whereby a PHSR conducted by a Professional Engineer is not required. In such situations, the employer is responsible for ensuring that an exemption is properly completed. This includes keeping and maintaining documents establishing the exemption, and making them readily accessible in the workplace for as long as the equipment remains in existence.
What happens with the PHSR documents upon completion of a review?
Upon the satisfactory completion of a PHSR, the employer is required to:
Ensure that the report is kept readily accessible in the workplace (including any supporting documentation). Ensure that the report is provided to their Joint Health and Safety Committee for review prior to the operation of the equipment.
What are some typical applications whereby a PHSR is completed?
The criteria that triggers the requirement for a PHSR is fairly detailed, and varies depending on the circumstances. In industry, any equipment whether new or modified, fitted with the following protective elements usually requires a PHSR:
Safeguarding devices that signal the apparatus to stop (i.e. safety light curtains, area scanning systems, two-hand control systems, etc.)
Physical barriers or safety fence that use interlocking mechanical or electrical safeguarding devices (i.e. key entry systems) Safety circuits should be hardwired or controlled by a safety PLC Safety circuits should be properly designed for the application (i.e. typically dual channel or control reliable) Safety guarding must be the correct: height, distance away from equipment, correct size openings Equipment must be fitted with a safe entry mechanism Pneumatic / hydraulic circuits must be functionally safe during power out and equipment entry situations (i.e. de-energized to prevent injury) Equipment must be designed to safely withstand load capacities Safeguards must be failsafe - tolerant of single faults that may occur
The above examples are only a select few that must be considered during a PHSR. An assessment of these types of applications would involve a review of established standards and regulations (i.e. ANSI, CSA, MOL, ISO, etc.) as well as the professional expertise and experience of the reviewer.
What are my responsibilities and obligations as an Employer?
An owner, lessee, or employer, should follow a systematic procedure when considering any piece of equipment for a PHSR. An overview of this process is illustrated in the flow chart below. It is the obligation of the employer to follow the principles of due diligence and take all necessary steps to ensure safety.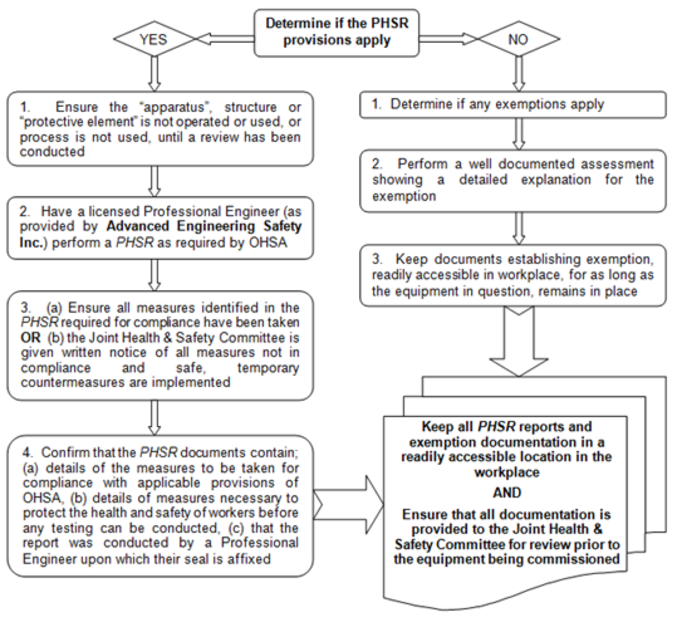 What is Due Diligence?
Due diligence is a management strategy to protect workers and prevent accidents, as well as reduce financial and legal risk. It involves the establishment and maintenance of a corporate system that manages health and safety in the workplace. In exercising due diligence, an employer is essentially showing that they have taken all necessary and reasonable precautions to avoid a particular incident. Often, in a legal sense, due diligence is used as a successful defence; however, a statutory due diligence defence does not cover all charges under the OHSA. In other words, it is important for an employer to demonstrate the use of due diligence to ensure safety, but does not guarantee immunity from the regulations of the OHSA. In cases where defences of due diligence have been successfully demonstrated, the accused party has
assessed the risk of exposure to identified hazards
implemented controls, where necessary, to minimize the risk of exposure
communicated the hazards, risks, and controls, to workers
monitored workers, work practices, and the workplace, for hazards
corrected unsafe work practices and remedied hazardous situations
An employer can facilitate the process of due diligence by hiring an outside consultant to provide assistance in analyzing equipment for inherent risks as well as performing risk assessments. MMC. will provide an employer with these types of services, in addition to relieving some of the stress and liability normally associated with equipment safety.
Are there any business benefits or incentives in performing PHSRs ?
While the main purpose of PHSRs is to ensure worker safety, there are certainly other benefits to consider, as seen in the illustration below.

Our Proposal
MMC is dedicated to providing businesses with the expert professional knowledge necessary to achieve compliance with all obligatory regulations and standards. We will utilize our engineering expertise in both the automotive and manufacturing industries to provide our clients with Pre-Start Health and Safety Reviews, as well as innovative design solutions.
Our goal is to provide you with all of the necessary services to assess your equipment systems for OHSA compliance, as well as design and implement the necessary changes for you to meet the applicable regulations. MMC. will not only provide you with high quality, low cost services, but will give you the confidence that your workplace equipment is safe for your employees.
The Benefits of using MMC..
MMC can work with machine builders and suppliers to ensure that your equipment is compliant before it is delivered to you.
We can support you in conducting full hazard identification and risk assessments of your new or existing equipment to determine whether it meets the necessary regulations and is safe.
We will conduct complete and thorough Pre-Start Health and Safety Reviews at a reasonable cost that is within your budget.
Our engineers are very experienced at providing safety solutions that will achieve a balance between overall cost and production effectiveness.
We put your needs ahead of our own. Many engineers are more concerned over their own personal liability and will lead you to implement excessive solutions that are unnecessary. We are committed to making realistic determinations that yield the best possible outcome for your business while achieving compliance.
We guarantee the utmost level of discretion and privacy and will not relinquish trade secrets or confidential information to anyone.
MMC will readily provide any of the above engineering and safety services for entire plants – we will devise a plan to check all of your equipment systems as an entire turn-key project that is set to a schedule accommodating your needs.
In providing effective safety solutions, you can rest assured that your workers are less likely to sustain equipment related injuries. Ministry of Labour audits are always more positive when they know that PHSRs are being provided from a competent and reliable source.
Monetary savings as a result of fewer equipment related injuries and reduced lost time in manpower.
In having us provide you with our engineering services, you will be exemplifying the process of due diligence and showing your employees that you take safety very seriously and take no short-cuts.
MCC provides Pre-Start Health and Safety Reviews (PSHSR) for large variety of machinery and equipment, such as but not limited to:
Robotic systems and automation
Mechanical, Pneumatic, Hydraulic and Brake Presses
CNC and Milling machines
Dust collection systems
Lifting devices
Overhead cranes
Balers and Compactors
Bending, Forming & Welding equipment
Packaging & Labeling machines
Storage Structure Racks
Injection & blow molding machines
Printing presses
Spray booths
A Pre-Start Health and Safety Review (PHSR) should be performed where the equipment, process or structure is used. The Pre-Start Health and Safety Review (PSHSR) process will be carried out in two stages as follows:
Review the layout & design drawings for mechanical safety including guarding and protective devices and compliance with relevant codes and safety standards.
Review the electrical drawings for compliance with the Ontario Electrical Safety Code.
Evaluate the operating cycle and verify a safe working environment.
Test the machine for normal operation and taking photos for the existing guarding system.
Recommend proper safeguarding solutions that should not restrict the operation system and should meet the safety requirements as well.
Recommend proper and reliable safety control circuits
Provide Pre-Start Health & Safety Reviews sealed by a professional engineer. The reports shall describe all measures that should be taken to achieve compliance with the relevant provisions of Ontario Regulation 851 for industrial establishments. The report shall also include results of any inspections performed.
STAGE 2
Follow ups prior to final compliance
Provide final compliance safety report
Issue certificate of safety compliance
Post MHD-safety-approved sticker on the machine
Certification Process
Certification couldn't be simpler, thanks to our four stage process.
The first stage is the completion of an ISO compliant manual, which can be done by one of our experienced consultants, or by yourself using our templates.
Stage two is implementation. In this step, your new manual will need to be brought into use at your organisation. Our dedicated consultant will be at hand to advise you on the best ways to do this.
Stage three is certification. To achieve your ISO certification, 3rd party certification company must visit your organisation and ensure that the processes documented in your manual are being followed correctly.
The final stage is surveillance. Your manual and processes must be checked each year to ensure your certification remains valid.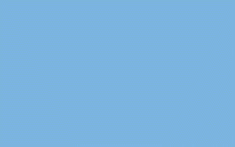 The 4 Stages of ISO Certification
Using our 'keep it simple' approach to ISO, we have simplified the certification process into four easy to understand stages.
For advice or an instant quotation, please call us on +965 25712190